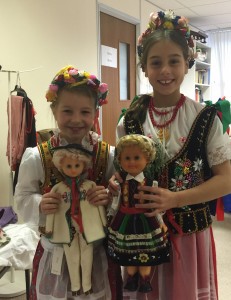 On 24th October 2015, at St Marie's Cathedral in Sheffield, we attended the family workshop on Polish traditions. The workshop was hosted by St Marie's Cathedral and our headteacher – Mrs Tamara Gryszel-Fieldsend.
Children (and parents) had the opportunity to learn about the history of the Polish community in Sheffield and its relationships with the cathedral, listen to stories about Polish traditions, see and try on Polish folk costumes and hear the legend of the Wawel Dragon. Toddlers coloured pictures with Polish folk motives, and the older children made paper Wawel dragons and gingerbread. During the workshop we marked places on the Polish map to show where we come from and we tasted delicious gingerbread baked by parents.
Photos from the workshops can be seen on our Flickr, Google+ profile and on the St Marie's Cathedral facebook page or just click on the post below.
We'd like to thank everybody from St Marie's Cathedral in Sheffield who organised the event – we've had such a great time!